| | | |
| --- | --- | --- |
| " | From the brilliant imagination of video game auteur American McGee comes a dazzling re envisioning of Red Riding Hood set in the wondrous world of Japanese folklore! Justin Aclin and Vasilis Lolos take Kani a young woman torn between two cultures on an epic adventure battling devious yokai for the fate of her world! | " |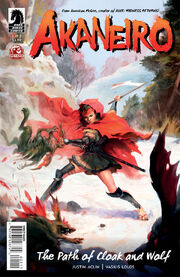 Akaneiro (あかね) is a series of comic books published by Dark Horse Comics which control the story of the Akaneiro: Demon Hunters world. It follows the story of a young woman named Kani (Red) who is "torn between two cultures" as she battles against the Yokai in order to persue a far greater destiny and become a member of the fabled Order of Akane.
The series is currently only three episodes long and does not contain any discussion or plans for a continuation of the short series.
Production
Edit
On January 9, 2013, it was announced on the Spicy Horse official website that Akaneiro would be available in a comic adventure; notably announced a week after the Kickstarter was announced and was included as a Kickstarter tier. It was quickly confirmed that the art and plot itself would be created through Spicy Horse studios while the publication would be produced through Dark Horse Comics (which is one of the primary publishers for comic book or art related books, The Art of Alice: Madness Returns was also published through Dark Horse). Although the book was in its early stages of development, it already had a release date which was scheduled to be released on May 22. They also understood that the comic would only be released in three parts and would not continue further than that.
Plot and Story
Edit
Illustrators
Edit